Injection Packages
The aim of TBA Thies GmbH is the client related conceptual design, development and execution of installations/plants. We offer special technical solutions for oil & gas, petrochemical and chemical industries, as well as municipal water and waste water treatment utilities.

Based on our wide experience and numerous qualifications in combination with close cooperation with our reliable partners we satisfy our client's technical requirements from concept throughout design & construction and up to commissioning; all on a one-stop source basis!
In most cases, the chemicals are to be metered into pipelines through which gaseous or liquid substances flow at different pressures and temperatures and, if necessary, with varying flow rates. Depending on these parameters, the amount of chemical to be fed often varies, which is why our metering systems can react flexibly to these parameters. Through appropriate recording of the process parameters in combination with plant control and, if necessary, automated adjustment options, we can respond flexibly to your requirements.
This requires a plant technology that takes into account the process conditions in the main plant as well as all necessary measuring and control tasks of the dosing technology, taking into account the required plant safety, as well as the working ergonomics. Therefore, the dosing systems of TBA Thies GmbH & Co. KG are usually a combination of the following assemblies:

- Product storage in plastic or stainless steel tanks
- Pumps in redundant design, if required
- Plant piping in plastic or stainless steel with pressures up to 250 bar
- Measurement and control systems
- Autonomous plant control or connection to the process control system

Due to the variety of tasks, we do not have any standardized systems, but always design them specifically for the application
Customer:Wintershall Libya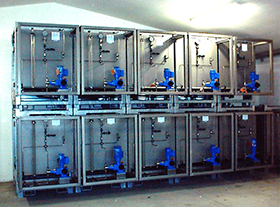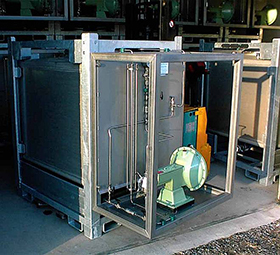 Dosing systems for a wide range of mediumsBased on the customer's request for simple dosing systems for different media, these dosing systems with minimal equipment were developed by us. They are easy to use and four different media are dosed on site with these systems: demulsifier; oxigen scavenger; biocide; corrosion inhibitor.Due to the compact and simple design, they offer high flexibility with strong cost efficiency. The stackable design also makes them particularly space-saving to stock. Since 2002, 150 units have been put into operation at drilling sites.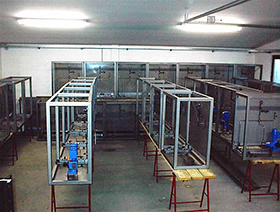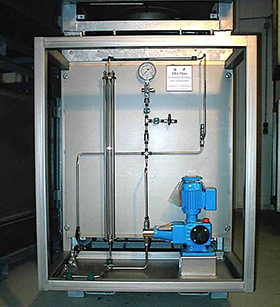 Customer:Wintershall Barnstorf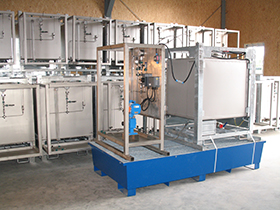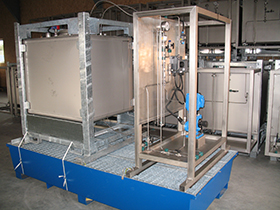 Dosing unit with mobile receiving tankThe medium is delivered to the injection site by means of the dosing pump. The storage tank is brought to the transfer station for filling and then reinserted. For this purpose, all pipelines and the cable connections to the safety equipment had to be designed so that they could be separated, which can only be done safely in hazardous areas with intrinsically safe components.For cost reasons, a standard collection tray was selected for the collection tray. Low requirements with regard to media resistance enabled the design with a cost-effective standard collection tray, here as a coated steel tray.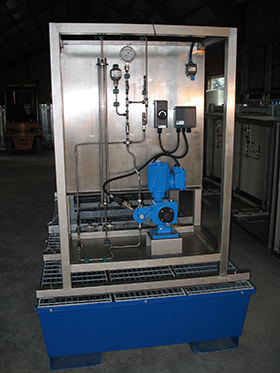 Customer:Wintershall Barnstorf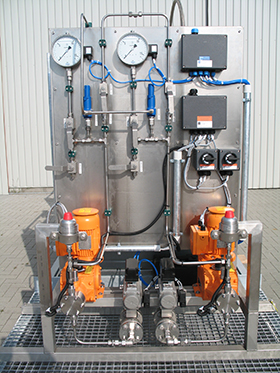 Dosing unit with redundant pump systemThe medium flows from the higher-lying interchangeable IBC into the lower-lying receiver. From here, it is conveyed to the injection point by means of the metering pump. The metering lines can be switched over by electropneumatically driven ball valves. The gas displacement line ensures that only a minimum emission of the highly toxic medium escapes into the environment..As a safety shutdown, the pressure gauges are equipped with limit contacts. The electrical engineering is designed for Ex zone 2.The catch basin is designed according to WHG for the maximum possible container volume.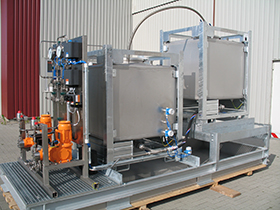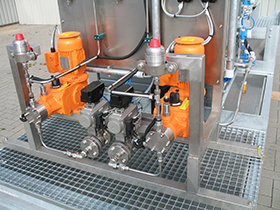 Customer:RWE Dea Nile Branch, Egypt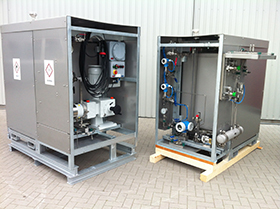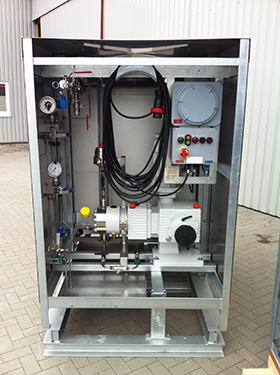 Dosing of Methanol and Corrosion InhibitorOn the basis of an international invitation to tender, TBA Thies GmbH & Co. KG received the order for the construction of three methanol dosing plants and 15 dosing plants for Corrosion Inhibitor (picture above left and right). The plants are used on natural gas fields in Egypt.The methanol metering systems (picture below left) convey against a line pressure of up to 300 bar with a volume flow of up to 110 l/h. At the customer's request, LEWA pumps with manual stroke adjustment were used. The local control system with the mounted sensor system ensures functionally reliable operation in Ex zone 2.In the case of the Corrosion Inhibitor - metering systems, particular emphasis was also placed on system safety. These systems run without supervisory personnel, so they were additionally equipped with redundant pressure monitoring and a Coriolis flow measurement. (Fig. center right) Since no electricity could be provided on site to drive the pumps, natural gas was used as the drive medium. As it is tapped at a pressure of up to 90 bar downstream of the HIPPS, extensive pressure reduction with intermediate heating is provided (bottom right picture).